JR WPH IN CANADA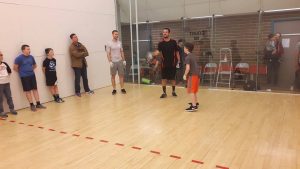 JR WPH Clinic at the 2017 Canadian Nationals
Winnipeg, AB, CAN, WPH Press, 5/16/17- Top-ranked Canadian Race 4 Eight pro Ryan Bowler and the Fred Lewis Foundation Executive Director Abraham Montijo teamed up for a sensational JR WPH Canada clinic at the 2017 Canadian National Four Wall Championships. Coaches Bowler and Montijo worked with seven Canadian juniors on proper pre-shoot positioning and footwork, followed by ceiling, sidearm, serve, and back wall stroke technique.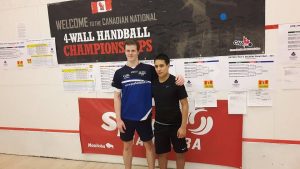 Following the instruction, the juniors played King of the Court points with one another and the pros. "The clinic was really awesome and the kids really enjoyed it," stated Coach Bowler. "It's really cool to be able to spend time with the juniors and help them with their games. Some promising young players participated!"
Keep an eye out on juniorhandball.org, as new clinic opportunities and recaps pop up weekly. Want to coach a clinic or a junior handball program? Need more information regarding junior handball? The Junior WPH group spans multiple countries, continents and oceans with clinics happening daily. We can help! Contact WPH Development Director David Fink at fink@race4eight.com
To enable Junior WPH to continue to host junior handball clinics and tournaments across North America with Certified WPH Coaches, the World Players of Handball invites you to make a tax-deductible donation today in supporting the growth of the game. 100% of the donations received by the WPH go towards junior handball development. Donate on-line here, or send your generous gifts through PayPal (extremehandball@cs.com) or by mailing checks to: WPH, 3561 E. Sunrise Dr. Suite 125, Tucson, AZ, 85718.
WPH Youth and Donor Development Director