17 JR WPH VEGAS MAY CLINIC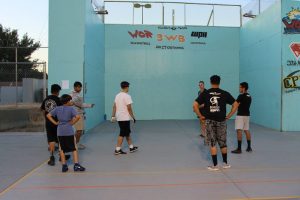 Las Vegas, NV, WPH Press, 5/16/17- WPH Outdoor #1 Samzon Hernandez teamed with WPH Outdoor #7 Chava Cordova for an exciting JR WPH clinic and skills competition at the 2017 WPH 3WallBall Vegas Lte Gold Cup. Coaches Hernandez and Cordova explained and demonstrated the proper techniques of the stiff arm left corer kill and stiff arm "out the door" kill. After practicing the shots, junior players had an opportunity to play points against the pros, with several of the junior players stunning the pros with exceptional skills to win points.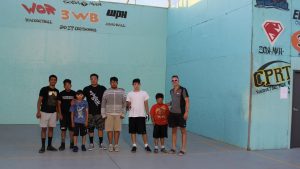 Thank you to Coaches Samzon and Chava for inspiring the next generation of players! JR WPH is proud to host clinics at all of our WPH Outdoor events, inspiring hundreds of junior handball players at each WPH Outdoor stop to make handball a part of their physically active and healthy lifestyle.
Keep an eye out on juniorhandball.org, as new clinic opportunities and recaps pop up weekly. Want to coach a clinic or a junior handball program? Need more information regarding junior handball? The Junior WPH group spans multiple countries, continents and oceans with clinics happening daily. We can help! Contact WPH Development Director David Fink at fink@race4eight.com
To enable Junior WPH to continue to host junior handball clinics and tournaments across North America with Certified WPH Coaches, the World Players of Handball invites you to make a tax-deductible donation today in supporting the growth of the game. 100% of the donations received by the WPH go towards junior handball development. Donate on-line here, or send your generous gifts through PayPal (extremehandball@cs.com) or by mailing checks to: WPH, 3561 E. Sunrise Dr. Suite 125, Tucson, AZ, 85718.
WPH Youth and Donor Development Director