JR WPH SUMMER HANDBALL CAMP IN JUAREZ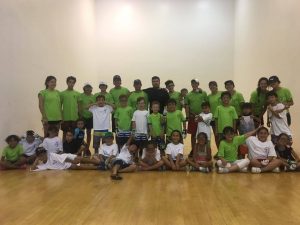 Juarez, Mex, WPH Press, 7/18/17- JR WPH is thrilled to sponsor the JR WPH Juarez Summer Handball Camp for the second consecutive summer at the Campestre Country Club in Juarez, Mexico, coached by 2016 JR WPH of the Year Richie "Drft" Fernandez. More than 100 youngsters between the ages of 3-14 are participating in the camp, with the 2016 JR WPH Coach of the Year teaching handball rules, fundamentals, strategies and games in organized and fun camp sessions.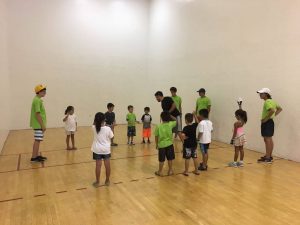 "A lot of the kids in the camp are athletes and I think they can become really good handball players," stated JR WPH Juarez program head coach and founder Drft Fernandez. "The new kids will join our weekly JR WPH junior handball program in Juarez in the fall."
Last year's Juarez summer handball camp ended with a camp tournament, with the new handball enthusiasts playing for WPH prizes and gear. Expect the same at the end of this summer's camp!
"We are so fortunate to have Coach Drft inspiring the next generation of players in Juarez," stated WPH Development Director David Fink. "In just his early 20's, Coach Drft is already one of the greatest ambassadors in the game. The WPH could not be more grateful for what Coach Drft is doing to grow the sport."
Keep an eye out on juniorhandball.org, as new clinic opportunities and recaps pop up weekly. Want to coach a clinic or a junior handball program? Need more information regarding junior handball? The Junior WPH group spans multiple countries, continents and oceans with clinics happening daily. We can help! Contact WPH Development Director David Fink at fink@race4eight.com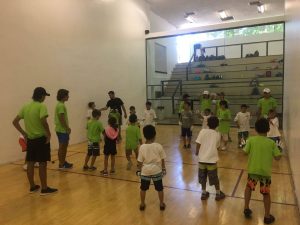 To enable Junior WPH to continue to host junior handball clinics and tournaments across North America with Certified WPH Coaches, the World Players of Handball invites you to make a tax-deductible donation today in supporting the growth of the game. 100% of the donations received by the WPH go towards junior handball development. Donate on-line here, or send your generous gifts through PayPal (extremehandball@cs.com) or by mailing checks to: WPH, 3561 E. Sunrise Dr. Suite 125, Tucson, AZ, 85718.
WPH Youth and Donor Development Director